Kvarner Islands & Northern Dalmatia – Deluxe Cruise
Details
Discover the best of Adriatic coast aboard our deluxe cruise ship! During this 8-day cruise you will swim in stunning sun kissed bays, experience complete serenity while laying on sun deck and explore beauty and tradition of charming Croatian cities on our guided city tours.
Included:
8-day cruise as per itinerary
Half board service (Buffet breakfast, three course lunches)
Welcome snack
Captain's dinner once per stay
English speaking representative during embarkation and disembarkation
2 Guided walking tours (Rab & Zadar)
Kornati National Park entrance fee
Excluded:
Visitor's tax & port fees: EUR 28 per person per week has to be paid on spot on the day of arrival
Itinerary
Day 1 Saturday: Rijeka - Krk island
Boarding time is from 11:00 am to 01:00 pm in port of Rijeka. After embarkation our representative will greet you with a welcome drink, and you will have a chance to get to know the crew and your fellow passengers. While enjoying a snack, we weigh anchor and head off for the marvellous island of Krk. Our first stop is a secluded cove, where you will for the first time be able to dive into the wonderful waters of the Adriatic Sea. We then continue to Krk, the capital of the island, or Punat, where we will moor for the night.
Day 2 Sunday: Krk island - Rab island
After breakfast, we set off for the next island – Rab. After about two hours, we will drop anchor in a romantic bay – here you will have plenty of time for swimming and sunbathing. We will reach the lovely town of Rab in the late afternoon. A guide will await us to take us on a guided walk. The old town of Rab, with its impressive bell towers, stretches around a narrow, rocky promontory, flanked by water. Three streets pass through the old town – the "Lower Street" with cafés and pubs, the "Middle Street" with boutiques, souvenir shops and ice cream parlours, and the "Upper Street", which leads to the four churches with their bell towers. Overnight stay in Rab.
Day 3 Monday: Rab island - Zadar
Today, we will leave the Kvarner Bay and head to Dalmatia. After a swimming break, we will reach Zadar, the centre of northern Dalmatia. After arriving in Zadar, a local tour guide will await us to take us on a walk through the walled old town, showing us unique sights like the Roman Forum, the circular church of Sveti Donat, or the Cathedral Sveta Stošija. Enjoy traffic-free streets with elegant boutiques and countless cafés or listen to the sounds of the world-wide unique Sea Organs on the Riva, whose melodies are created purely by waves. Overnight stay in Zadar.
Day 4 Tuesday: Zadar - National Park Kornati Islands - Zadar Archipelago
Surely the highlight of our trip! According to the Irish author George Bernard Shaw, "On the last day of creation, God crowned his work, and thus created, out of tears, stars and breath, the Kornati Islands". The beautiful scenery, countless small and large islands, and the turquoise sea – all this makes the Kornati Islands a unique paradise. It is the largest and most dense archipelago in the Adriatic Sea – comprising 147 islands, islets and reefs, which cover an area of 35 km of length. From Zadar, we will continue our cruise, heading towards the "Proversa", a narrow passage between the islands of Dugi Otok and Kornat, which is the entrance to the unique National Park. After passing the fascinating area of the National park, we will continue towards north and anchor at one of the numerous islands of the beautiful Zadar archipelago – Dugi Otok, Zverinac, Molat or Olib
Day 5 Wednesday: Zadar archipelago – Lošinj island
We head towards the island of Lošinj, which is not only known for its 300 cloudless or only slightly clouded sunny days per year, but also for being covered by dense pine forests. With a bit of luck, we will maybe spot dolphins playing in the waves; in the waters around the island of Lošinj, there are more than 220 dolphins registered by the "Adriatic Dolphin Project". After a swimming break, we will reach Mali Lošinj, where we will spend the evening and the night.
Day 6 Thursday: Lošinj island – Cres island
Today we will sail to the neighbouring island of Cres. The striking feature of the island are the endless olive groves and the innumerable flocks of sheep. Needless to say, that roast lamb is one of the specialties of the island of Cres. After the obligatory swimming break, we will head towards the picturesque town of Cres, where we will stay for the night.
Day 7 Friday: Cres island - Rijeka
Time to say goodbye to the Croatian islands. From Cres we will cruise along the eastern shoreline of Istria to Rijeka – not without taking one last dip into the sea. Overnight stay in the port of Rijeka.
Day 8 Saturday: Disembarkation
After breakfast, disembarkation until 9:00 am.
Prices
Year: 2023.
| | | | | | |
| --- | --- | --- | --- | --- | --- |
| Departure dates | April 15, 22, 29 May 06 Oct 07, 14, 21 | April 01, 08 May 13, 20 Sep 30 | May 27, Sept 23 | Jun 03, 10, 17, 24 Sept 16 | July 01, 08, 15, 22, 29 Aug 05, 12, 19, 26 Sept 02, 09 |
| UPPER / MAIN DECK | 1.290,00 € | 1.485,00 € | 1.730,00 € | 1.855,00 € | 1.905,00 € |
| LOWER DECK | 985,00 € | 1.180,00 € | 1.405,00 € | 1.530,00 € | 1.580,00 € |
| Single cabin use supplement | 50% | 50% | 50% | 50% | 50% |
FAQ
Are airport transfers included in this tour?
No. Please contact us if you require transfer to/from Trogir port, and we will gladly assist you.
Are flights included in this tour?
Flights are not included in the price.
Are all the relevant entry visa's included in the price of the tour?
Visas are not included in the price. If you require visa to enter Croatia please contact us, and we will gladly help you with visa request.
Is the ship air conditioned?
Yes, ships have air-conditioned cabins and saloon. The air conditioning is working only when the ship's engine or the power engine is running, or when the ship is connected to the power supply ashore. When staying overnight in secluded coves or in fishermen's villages without connection for power supply, the air conditioning is mainly switched off. In some harbours, the electrical supply may be too weak to distribute enough power to multiple ships with air conditioning.
Are children permitted to take part in the tour?
This cruise is recommended for adults, but kids are welcomed to join.
Will there be an escort accompanying this tour?
No, English-speaking representative is available during embarkation and disembarkation.
What is the maximum group size?
Are the local guides on the tour English speaking?
Yes, all guides and most crew speak very good English.
Are vaccinations required for this tour?
Is there a limit to luggage that can be brought on the tour?
Generally, there is no limit. But you should keep in mind that the space in the cabins is restricted and that there are no storerooms aboard. And as there is no dress code, you can leave formal clothing like evening gowns and tuxedos at home.
Is free Wi-Fi available in the accommodation used?
Yes, there is free Wi-fi on board.
Is there a supplement for solo travellers?
Yes. Please check our price list.
Can you assist with pre- or post-tour accommodation?
Yes, we will gladly arrange your pre/post tour accommodation.
Is there any free time to explore places during the tour?
Yes, guide will always make sure you have some free time to explore on your own.
What is the fitness level required to do this tour?
This tour requires minimal fitness level. Most activities require light walking.
What currencies are required for this tour?
Official currency in Croatia is Croatian Kuna (HRK). All major currencies can be easily exchanged in banks, hotels or exchange offices. ATMs are also widely available.
What happens if a group doesn't make its minimum required number of passengers?
In the unlikely case that departure is cancelled, every client who has paid either deposit or full amount will receive money return in full.
Perfecta Travel is obliged to send information about cancellation no later than 60 days before departure date.
What is the tipping policy?
Tips are welcomed but not mandatory. Here are tipping recommendations:
• Local Guide/s: 10-15€ per group for a half-day tour, 15-20€ per group for full-day tour
• Driver: 1-2€ per person per day
• Hotel personnel: 1-2€ per day
What kind of adapter will I need for my electronics?
Croatia uses the standard European socket with round, two-pronged plugs. You can buy an adapter at most electronics stores, or even grab one in the airport on your way out.
Is it allowed to bring own beverages aboard the ship?
No, it is not allowed to bring your own beverages aboard.
How does a typical day on the cruise look like?
Breakfast is served from 8:00 until 9:00 am, afterwards we weigh anchor and set sail. Around noon we will moor in a cove and have the occasion for a swim. At 1:00 pm, the captain will strike the bell for lunch. After lunch, there is plenty of time left to enjoy another refreshing dip or to take a nap. In the afternoon, we will head for our today's destination, which we will reach in the late afternoon. The rest of the day is at your disposal – take a walk through the place, have a drink in a café, or stop for a bite to eat in one of the restaurants. Or follow the recommendation of your captain if you like to have dinner aboard. Afterwards, you still have plenty of time for convivial gathering ashore or aboard…
For your convenience, towels are provided on all our vessels (2 towels per person upon arrival). You are kindly requested to bring your own beach towels.
Is there bed linen aboard?
Of course, at your arrival the beds are made up for you.
Map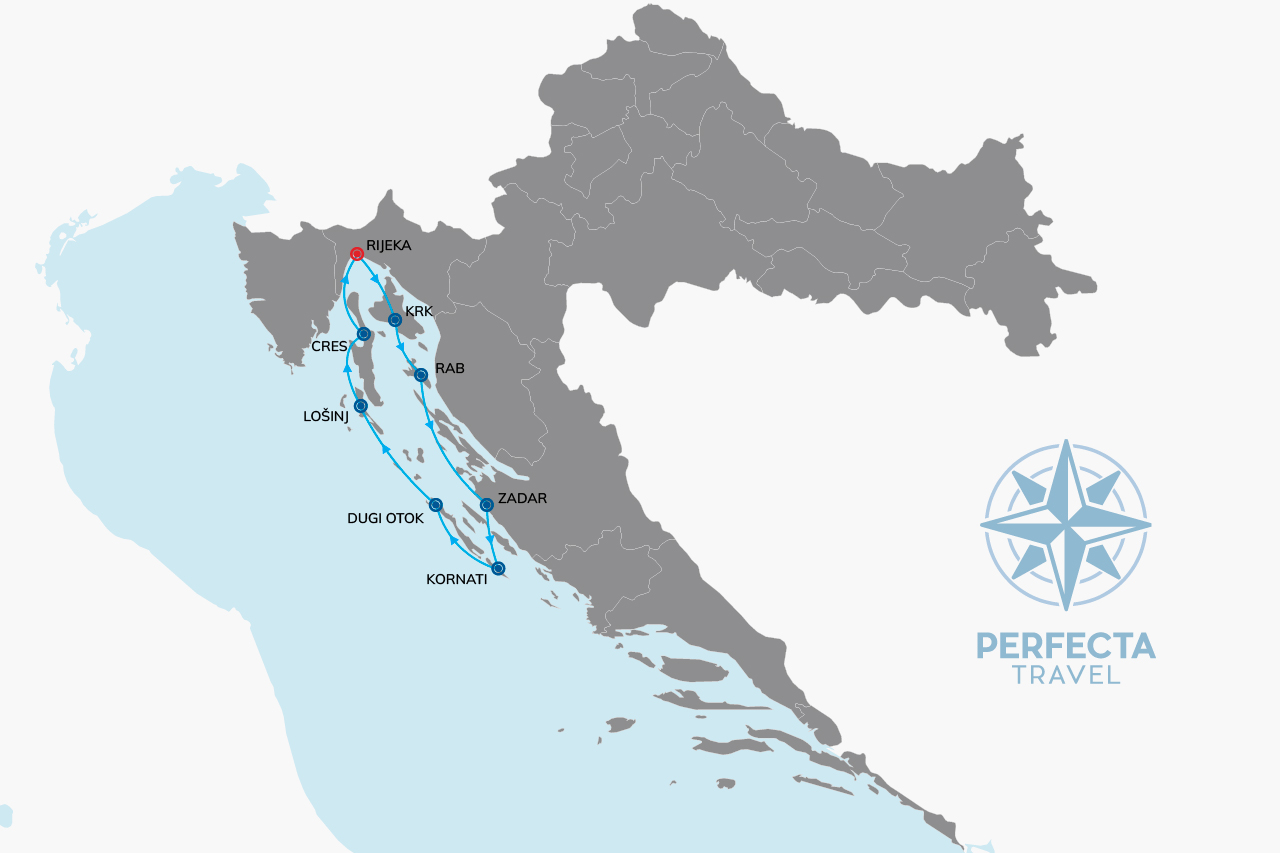 Reviews
Joanna
Couple Traveller
Beautiful cruise with amazing food. The staff was wonderful and the guided tours were great. Loved the swims in the afternoon and all of the overnight stops in Croatia.
18/01/2020
Matthias
Family Traveller
Thanks to the team of Perfecta Travel it was a wonderful experience. Not only the ship, landscape and places visited during the tour were great, but the whole team made the experience into one of the best tours I've ever taken. We are definitely planning to return to this area and maybe visit other places with them.
23/10/2018