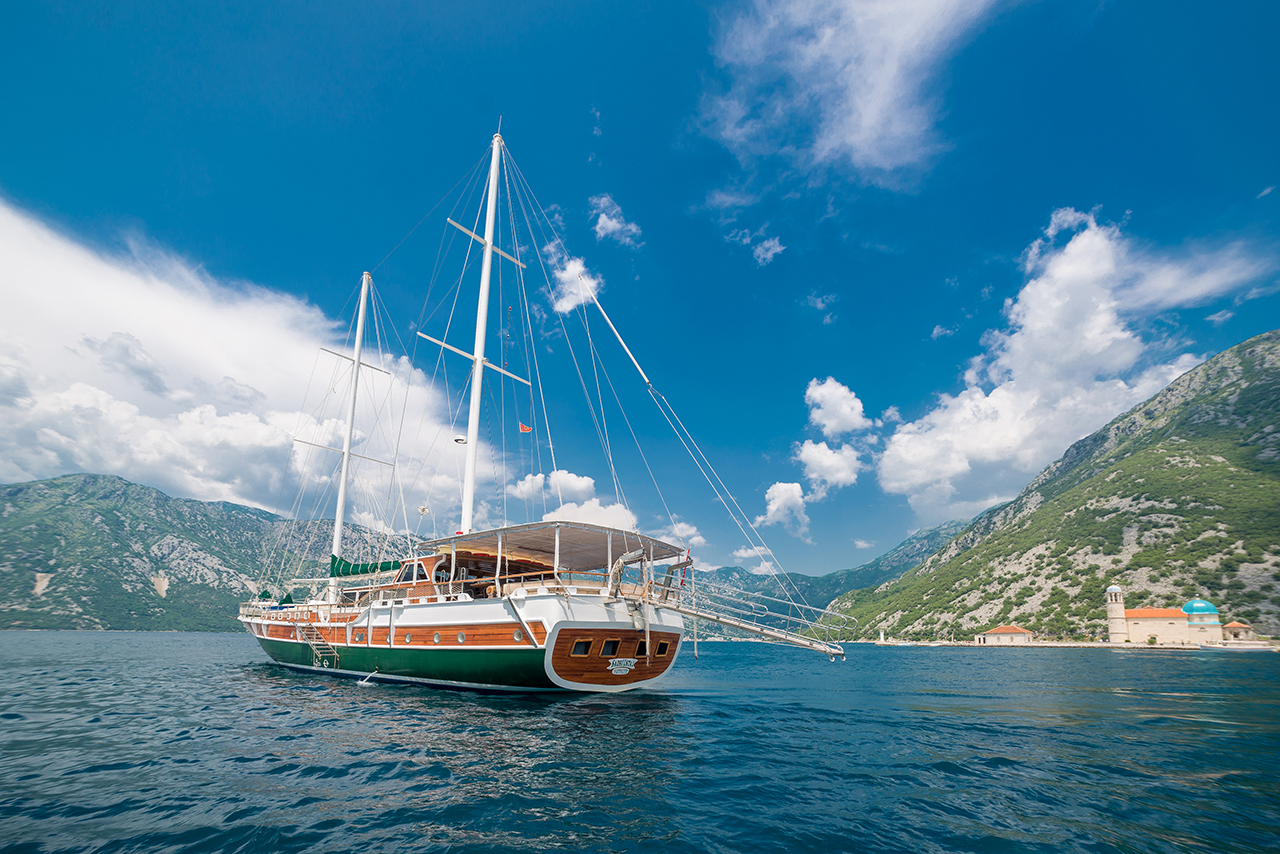 Best of Montenegro by sea – Gulet Cruise
Details
Discover stunning Adriatic coast of Montenegro with gulet – wooden ship and enjoy beautiful bays and historical old towns of Montenegro. Learn more about Maritime Heritage Museum, Old town Kotor, Stari Bar, Mount Lovcen, Perast and islands on included guided tours.
Included:
7-day cruise as per itinerary in a cabin with private facilities
Half board service (breakfast, lunch)
Captain's dinner once per stay
Complimentary fresh fruits and water available all day
Bed linens, bathroom towels, and beach towels included and changed twice
English speaking representative during embarkation and disembarkation
Guided tour of Maritime Heritage Museum, Old town Kotor, Old town Bar
Recreational equipment (snorkelling sets, kayaks, fishing rods, paddle board, TV, DVD, card games, library)
Excluded:
Visitor's tax & port fees: EUR 50 per person per week has to be paid on spot on the day of arrival
Itinerary
You will be transferred from the Tivat airport to the harbour, where embarkation begins at 17:00 h. Get settled in your cabin before welcome drink. Dinner onboard for the first night. Overnight at anchor.
Day 2 TIVAT – KOTOR (B, L)
Our first visit will be the Maritime Heritage Museum, interesting from a historical point of view regarding Tivat and the early navy days. We sail into magnificent Boka Bay, and we stop for lunch and swimming in Ljuta Bay. We arrive early in the port of Kotor, a UNESCO World Heritage site. The town is a medieval maze of museums, churches, cafe-strewn squares and Venetian palaces and pillories. It's a unique place to see for the position and history. Enjoy dinner on your own at one of many restaurants present in Kotor. Overnight at dock/anchor, depending on availability.
Day 3 KOTOR – BUDVA (B, L)
After breakfast, we have a city guided tour of the Old Town of Kotor. We sail out of the bay in the south direction. Refresh yourself swimming in Dobra Luka Bay and enjoy lunch onboard. Before arriving in Budva, we will stop in the famous sandy beach Jaz. You will have rest part of the day to explore Budva, one of the oldest settlements on the Adriatic coast, over 2,500 years old. Here are the most beautiful Christian arrangements and the most unusual churches in this part of Europe. Dinner out and overnight at anchor in Budva.
After breakfast, we set sail for Bar and stop for lunch in front of Sveti Stefan, a fortified island village. In the past was a favourite hangout of 60's film stars and royalty like Sophia Loren, Doris Day and Princess Margaret. We will have a pleasant walk from Sveti Stefan to Przno through Milocer Park. Before arriving in Bar, we stop for afternoon swimming in Maljevik Bay, a small quiet bay. Your evening is free to explore Bar on your own. Overnight at the dock.
Day 5 BAR – BIGOVA (B, L)
Today, before to leave Bar, we go for a guided tour of Stari Bar, an old fortified town in the hinterland of today's city of Bar. In the centuries had been its centre, until the city moved down, into the field towards the sea. Today the Old fortress is abandoned and is in ruins. Here you can find many interesting souvenirs shops. We turn our compass back north with a stop for lunch and swimming in front of Petrovac, in Lucice Bay, one of the most beautiful sandy beaches. Before arriving in Bigova, a fisherman village, we make one more stop for swimming in Traste Bay. Enjoy dinner on your own. Overnight at dock/anchor depending on availability.
Day 6 BIGOVA - HERCEG NOVI (B, L)
After breakfast, we sail out and enjoy lunch onboard in Mirista Bay. Before arriving in Herceg Novi, we will stop for swimming in Njvice. Take time out to discover Herceg Novi, far from the madding crowds. Stroll through the empty streets, explore the old buildings and churches, check out the fortress Forte Mare and enjoy the atmosphere and the history. Enjoy dinner on your own. Overnight at dock/anchor, depending on availability.
Day 7 HERCEG NOVI – PERAST (B, L, D)
For our last day, we sail into Boka Bay and stop in Risan Bay for lunch onboard. Risan is famous for the remnants of the classical culture. Upon arrival to Perast, stop to visit Gospa od Skrpjela (Lady of Skrpljel) and St Gorge, both unique tourist attractions. You can't miss to visit St. Nikola church in Perast and admire a stunning view from the top. Observe the small but beautiful exposition of the Perast museum, in Bujovic Palace. Tonight, enjoy captain's dinner onboard. Overnight at the dock.
Early morning sail to Tivat for disembarkation and breakfast on board. Transfer to the Tivat airport.
Prices
Year: 2023.
| | | | |
| --- | --- | --- | --- |
| Departure dates | May 1, 8, 15, 22 Oct 2 | May 29 Jun 5, 12 Sep 11, 18, 25 | Jun 19, 26 Jul 3, 10, 17, 24, 31 Aug 7, 14, 21, 28 Sep 4 |
| Per person in twin / dbl cabin | 2.340,00 | 2.470,00 | 2.600,00 |
| Single cabin use supplement | 100% | 100% | 100% |
FAQ
Are airport transfers included in this tour?
No. Please contact us if you require transfer to/from Trogir port, and we will gladly assist you.
Are flights included in this tour?
Flights are not included in the price.
Are all the relevant entry visa's included in the price of the tour?
Visas are not included in the price. If you require visa to enter Croatia please contact us, and we will gladly help you with visa request.
Is the ship air conditioned?
Yes, ships have air-conditioned cabins and saloon. The air conditioning is working only when the ship's engine or the power engine is running, or when the ship is connected to the power supply ashore. When staying overnight in secluded coves or in fishermen's villages without connection for power supply, the air conditioning is mainly switched off. In some harbours, the electrical supply may be too weak to distribute enough power to multiple ships with air conditioning.
Are children permitted to take part in the tour?
This cruise is recommended for adults, but kids are welcomed to join.
Will there be an escort accompanying this tour?
No, English-speaking representative is available during embarkation and disembarkation.
What is the maximum group size?
Are the local guides on the tour English speaking?
Yes, all guides and most crew speak very good English.
Are vaccinations required for this tour?
Is there a limit to luggage that can be brought on the tour?
Generally, there is no limit. But you should keep in mind that the space in the cabins is restricted and that there are no storerooms aboard. And as there is no dress code, you can leave formal clothing like evening gowns and tuxedos at home.
Is free Wi-Fi available in the accommodation used?
Yes, there is free Wi-fi on board.
Is there a supplement for solo travellers?
Yes. Please check our price list.
Can you assist with pre- or post-tour accommodation?
Yes, we will gladly arrange your pre/post tour accommodation.
Is there any free time to explore places during the tour?
Yes, guide will always make sure you have some free time to explore on your own.
What is the fitness level required to do this tour?
This tour requires minimal fitness level. Most activities require light walking.
What currencies are required for this tour?
Official currency in Montenegro is Euro (EUR). All major currencies can be easily exchanged in banks, hotels or exchange offices. ATMs are also widely available.
What happens if a group doesn't make its minimum required number of passengers?
In the unlikely case that departure is cancelled, every client who has paid either deposit or full amount will receive money return in full.
Perfecta Travel is obliged to send information about cancellation no later than 60 days before departure date.
What is the tipping policy?
Tips are welcomed but not mandatory. Here are tipping recommendations:
• Local Guide/s: 10-15€ per group for a half-day tour, 15-20€ per group for full-day tour
• Driver: 1-2€ per person per day
• Hotel personnel: 1-2€ per day
What kind of adapter will I need for my electronics?
Croatia uses the standard European socket with round, two-pronged plugs. You can buy an adapter at most electronics stores, or even grab one in the airport on your way out.
Is it allowed to bring own beverages aboard the ship?
No, it is not allowed to bring your own beverages aboard.
How does a typical day on the cruise look like?
Breakfast is served from 8:00 until 9:00 am, afterwards we weigh anchor and set sail. Around noon we will moor in a cove and have the occasion for a swim. At 1:00 pm, the captain will strike the bell for lunch. After lunch, there is plenty of time left to enjoy another refreshing dip or to take a nap. In the afternoon, we will head for our today's destination, which we will reach in the late afternoon. The rest of the day is at your disposal – take a walk through the place, have a drink in a café, or stop for a bite to eat in one of the restaurants. Or follow the recommendation of your captain if you like to have dinner aboard. Afterwards, you still have plenty of time for convivial gathering ashore or aboard…
For your convenience, towels are provided on all our vessels (2 towels per person upon arrival). You are kindly requested to bring your own beach towels.
Is there bed linen aboard?
Of course, at your arrival the beds are made up for you.
Map
Reviews
Susan, 48
Solo Traveller
This cruise emphasizes really the best of Montenegro. We have visited well known Sveti Stefan, Kotor, Budva, Perast, Tivat. Crew was the best and our guide was more than interesting. He entertained us the whole time and we had a blast hearing interesting and educational stories. Would love to take another cruise in the arrangement of Perfecta Travel.
08/08/2019
Freddy, 41
Family Traveller
Each day went smoothly and by the schedule. I liked the food on board, especially captain's dinner. All the guests were relaxed, had loads of fun and see many beautiful places. This itinerary for the cruise is great and not at all tiring. All compliments to Perfecta Travel.
27/06/2019
Deborah, 37
Couple Traveller
Great cruise with lots of interesting elements. Montenegro is a beautiful country and more and more people are there to discover its beauties. Crew was excellent and we had the best time ever. Already planning our next holiday and would love to try some of Croatian cruises as well!
15/05/2019
Nadine, 34
Group Traveller
This cruise was such nice experience with carefully made itinerary, nice staff and excellent tour guide. All meals were cooked fresh, with nice ingredients and were very tasty. Also, accommodation was comfortable and very clean. All elements deserve nothing but compliments.
28/04/2019
PROUD MEMBER OF