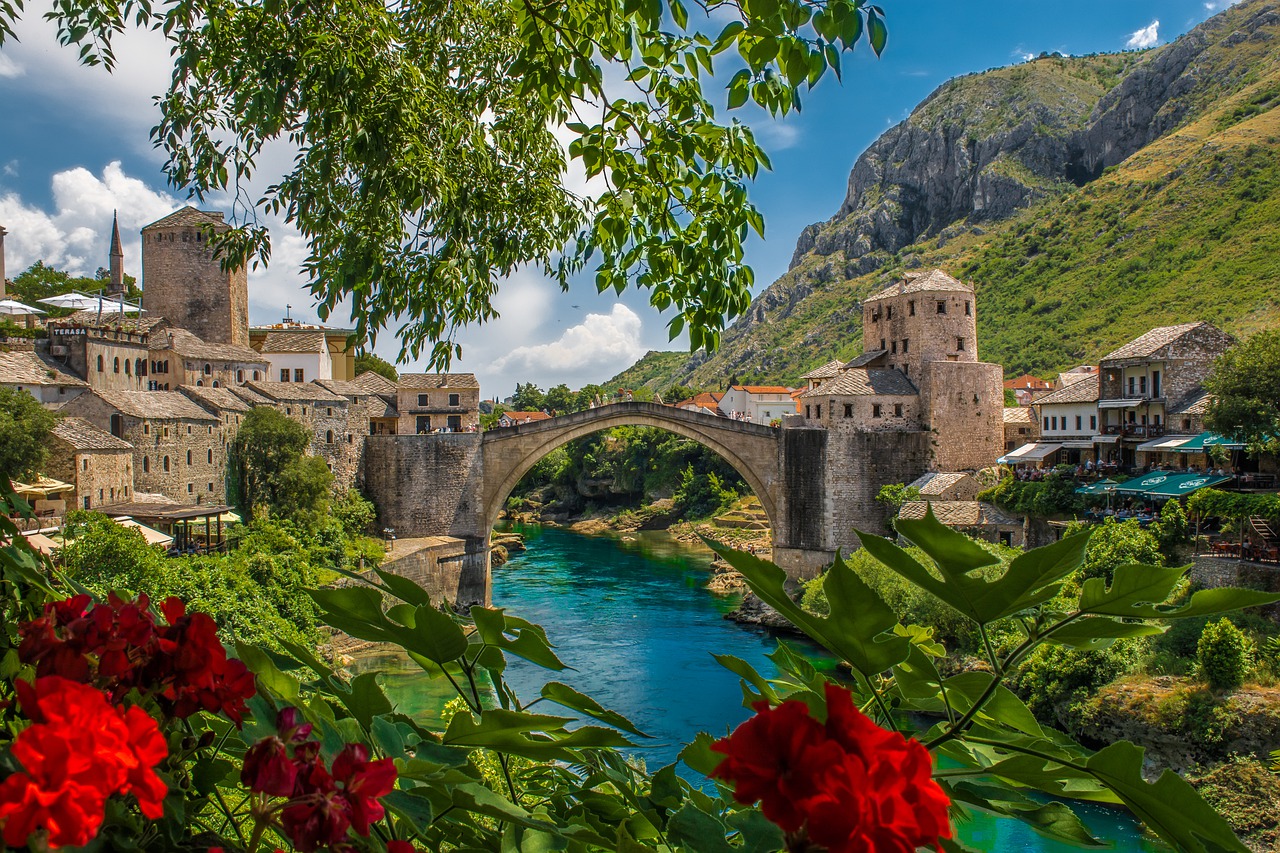 Discover Balkan countries
Details
Discover the best of Balkan Peninsula on this 13 day multiple countries tour! Learn about rich history and visit beautiful cities and locations in Croatia, Slovenia, Montenegro, Bosnia & Herzegovina and Serbia. Don't miss out on natural wonders such as Lake Bled, Plitvice Lakes, National Park Krka and others. Excellent local guides in most attractive destinations will show everything you wish to know and much more.
Included:
All transfers as per itinerary
Qualified and licensed Tour Manager during the entire trip
Welcome drink and info meeting on Day 1
12 x BB in hotels 4*, 8 x Dinner in hotel restaurant, 4 x Lunch in local restaurants
Local guides in Zagreb, Ljubljana, Bled, Plitvice, Zadar, Split, Dubrovnik, Kotor & Budva, Mostar, Sarajevo, Belgrade
Entrances: Funicular Zagreb, Bled boat ride & Bled Castle, NP Plitvice, Turkish house in Mostar, Svrzina house Sarajevo, Kalemegdan and Museum of Yugoslavia Belgrade
Excluded:
Return flights
Tips
Meals not specified in the itinerary
Example hotels
Zagreb: Hotel Dubrovnik, 4* or similar
Ljubljana: Hotel Austria Trend, 4* or similar
Plitvice: Mirjana & Rastoke, 4* or similar
Split: Hotel President, 4* or similar
Dubrovnik: Hotel Neptun, 4* or similar
Sarajevo: Hotel President, 4* or similar
Belgrade: Hotel Mona Plaza, 4* or similar
Itinerary
Day 1 ZAGREB – Arrival (25 km) (D)
Upon arrival, individual or group transfer to Zagreb hotel. Welcome drink and get together at the hotel. Dinner in hotel in Zagreb.
After breakfast enjoy sightseeing tour of the capital and the largest city of Croatia. Walk around the historical city centre and explore major sights and rich history dating from Roman times. Feel unique experience of everyday Zagreb on Dolac, open-air farmers market where locals buy food for past 80 years, meet the locals and taste fresh seasonal products from Zagreb surroundings. On the way to the upper city you will pass the famous Stone gate, one of the best-preserved monuments of the old Zagreb and hear its story. Take a ride with the funicular in Zagreb and a walk via Lenuzzi green horseshoe – one of the major urban interventions in the history of Croatian architecture and horticulture. Afterwards, enjoy traditional meal of the area in local restaurant. Overnight stay at the hotel in Zagreb.
Day 3 ZAGREB – LJUBLJANA (143 km) (B, D)
After breakfast your transfer will drive you to Slovenia. Once we arrive we will settle and refresh ourselfs in the hotel. Afternoon we will enjoy in our walking tour. We will discover Ljubljana, the beautiful Slovenian capital, situated on the banks of the Ljubljanica River. The city grew around the Grand Fortress, built in the twelfth century at the top of a hill from where one can enjoy a splendid view of the Julian Alps and Karavanke. Enjoy Ljubljana Castle, The Square of Three Bridges, National Museum and Opera House during a nice walk. Dinner and overnight stay at the hotel in Ljubljana.
Day 4 BLED (53 km) (B, L)
After breakfast your transfer will take you to Bled. Bled is a great natural beauty, surrounded by the Alps. It is well known for its lake, hot springs and mild climate. It has an island considered to be the most beautiful in the world, with an eleventh century castle. Bled was presented to the Bishop of Brixen by the Holy Roman Emperor, Henry II in the middle ages. The jewel-like Lake Bled, fringed with sylvan shores and towering mountains is overlooked by a medieval Castle. Visit the picture-perfect Castle on the hill. From the castle you can see a small, verdant island in the middle of the lake – home to the white tower and red roof of the Baroque style Church of the Virgin's Nativity. We will take a gondola ride to the island and climb the monumental staircase which leads to the famous "Bell of Wishes ". After excursion lunch will be served in local restaurant. Overnight stay at the hotel in Ljubljana.
Day 5 LJUBLJANA – PLITVICE (250 km) (B, D)
After breakfast we leave Ljubljana towards Plitvice. Upon arrival, enjoy guided walking tour of beautiful natural lake complex Plitvice, listed on UNESCO's List of World Natural Heritage. Hike between lakes, beneath waterfalls and admire always changing colours of water. Someone wrote: "There are water, lakes, waterfalls and forest elsewhere, but Plitvice Lakes are unique. They simply must be seen!" Over one million people every year stop in the Lika region just to be able to enjoy this masterpiece of nature. Through centuries water was carving lakes and forming waterfalls resulting with creation of 16 crystal clear lakes. It is first and the biggest National park in Croatia. Considering weather conditions, your wishes and capabilities we will choose the best route between many that are possible. Dinner and overnight at hotel in Plitvice.
Day 6 PLITVICE – ZADAR – SPLIT (280 km) (B, D)
After breakfast we are heading towards Split. On our way to Split we will have a stop in Zadar, where we will explore city during our walking tour. Zadar's street layout dates back to Roman times. During the Middle Ages it was the main base of the Byzantine fleet. It became a Venetian colony in 1409 and was very prosperous. We will pass by the St Donatus' Church which is the most important preserved structure of its period in Dalmatia. Beside the historical centre discover one of the first musical pipe organs that are played by the sea so called – Zadar's Sea Organs and the famous site called the Greeting to the sun. After free time in Zadar we are continuing to Split. Dinner and overnight at hotel in Split.
Day 7 SPLIT – STON – DUBROVNIK (230 km) (B, L)
After breakfast we will discover UNESCO protected monument Diocletian's palace in the Historical nucleus of SPLIT. Walk through the medieval streets as the Romans did 18 centuries ago and enjoy the most impressive sites such as the palace of the great emperor Diocletian with his mausoleum – today's cathedral, Peristyle, Golden gate, various statues, Venetian palaces and much more. Afterwards spend some free time exploring Riva-Split's beautiful waterside promenade lined with restaurants, shops and cafes. Once our walking tour finishes we are continuing to Dubrovnik. On our way we will have stop for lunch in Ston. Historically, Ston was an important salt producing town, strategically positioned on the Adriatic shore along important trade routes. The town was so significant for the Ragusa Republic that they ordered one of the longest fortifications in Europe to be built here, a defence wall 3.4 miles long. The walls are still standing today, and so is the salt production in Ston town which is an otherwise popular destination for foodies due to the local Mali Ston Bay mussels and oysters. Overnight at hotel in Dubrovnik.
After breakfast we will have Dubrovnik walking tour. Magnificent old city known for its characteristic red roofs and old roman streets. Dubrovnik (Ragusa) is one of the most important historical and tourist centres which was also in 1979 included in UNESCO's World Heritage List.
Except for its cultural and historical sites, Dubrovnik is inexhaustible source of traditionally prepared food, excellent selections of vine and great choice of café and souvenir shops. Lunch will be served in local restaurant. Overnight at hotel in Dubrovnik.
Day 9 DUBROVNIK – MONTENEGRO – DUBROVNIK (200 km) (B, D)
After breakfast we will have full day excursion to Montenegro. Budva the Old Town lies on a little island that was linked to the land by a sandbar and in time turned into a peninsula. Ramparts that originate from the 15th century surround it and they include a medieval fortification system with city gates, defence walls and towers. Inside the walls the town is a combination of narrow streets and little squares with valuable monuments. We continue our excursion to UNESCO Kotor, a city of traders and sailors, situated in Boka kotorska bay. Medieval architecture and numerous monuments of cultural heritage have made Kotor a UNESCO listed "World Natural and Historical Heritage Site ". Through the entire city the buildings are criss-crossed with narrow streets and squares. One of these squares contains the Cathedral of Saint Tryphon (Sveti Tripun), a monument of Roman culture and one of the most recognizable symbols of the city. Dinner and overnight at hotel in Dubrovnik.
Day 10 DUBROVNIK - MOSTAR – SARAJEVO (250 km) (B, D)
After breakfast departure for Sarajevo. On our way we will have walking tour of UNESCO Mostar. During your sightseeing you will witness the imprint left by this varied history and enjoy fairy tale book like scenery. Near the Mosque you can take a coffee break at a Turkish cafe called Koski Basta Caffe, which offers authentic Turkish feel. We continue to Stari most (Old bridge), which is one of the country's most recognizable landmarks and a fantastic piece of Islamic architecture in the Balkan region. During your sightseeing of Mostar you will also visit Old Bazaar, typical Turkish house and other attractions. Continue to Sarajevo. Dinner and overnight at hotel in Sarajevo.
Day 11 SARAJEVO – BELGRADE (306 km) (B, D)
After breakfast we will have sightseeing of Sarajevo. Sarajevo is a city where over four hundred years mosques, synagogues, orthodox and Roman Catholic churches have been built and have stood side by side here. We will visit Baščaršija, one of the most maintained old bazaars with most diverse stores and restaurants and Principe Bridge (site of 1914 assassination of Archduke Ferdinand). Enjoy the included entrances to the traditional Bosnian architecture house called Svirso's house. After tour we are heading to Belgrade. Dinner and overnight at hotel in Belgrade.
After breakfast full day sightseeing of Belgrade, the capital of Serbia. On foot we will visit the biggest park in Belgrade – Kalemegdan and the Kalemegdan fortress. Proceed by bus in the direction of Terazije, Parliament, City Hall, Pioneer Park, towards Slavija square. Then we will walk through park of Karađorđe until the Temple of Saint Sava (largest of its kind in the world). Dinner will be served at local restaurant in old town. Overnight at hotel in Belgrade.
Day 13 BELGRADE – ZAGREB (400 km) (B)
Breakfast at the hotel and transfer to Zagreb airport for your departing flight.
Prices
Year: 2023.
| | | | | | |
| --- | --- | --- | --- | --- | --- |
| Period | 12 April | 17 May | 14 June | 20 Sep | 11 Oct |
| In DBL room | 3.900,00 | 4.290,00 | 4.420,00 | 4.550,00 | 4.160,00 |
| Supplement for SGL room | 900,00 | 1.105,00 | 1.160,00 | 1.265,00 | 1.095,00 |
FAQ
Are airport transfers included in this tour?
Yes, transfers to/form airport are included in the price.
Are flights included in this tour?
Flights are not included in the price.
Are all the relevant entry visa's included in the price of the tour?
Visas are not included in the price. If you require visa to enter Croatia please contact us, and we will gladly help you with visa request.
Are all entrance fees included in the price?
Following entrances fees are included in the price. Entrances: Funicular Zagreb, Bled boat ride & Bled Castle, NP Plitvice, Turkish house in Mostar, Svrzina house Sarajevo, Kalemegdan and Museum of Yugoslavia Belgrade.
Is the tour coach air conditioned?
Yes, we use only high-quality vehicles and all are air conditioned.
Are children permitted to take part in the tour?
This tour is recommended for adults, but kids are welcomed to join.
Will there be an escort accompanying this tour?
Yes, we have qualified and licensed Tour Manager during the entire trip.
What is the maximum group size?
Are the local guides on the tour English speaking?
Yes, all guides and tour manager speak very good English.
Are vaccinations required for this tour?
Is there a limit to luggage that can be brought on the tour?
Is free Wi-Fi available in the accommodation used?
Yes, all hotels have free Wi-fi and many tourist locations in Croatia have free Wi-fi also.
What is the standard of the hotels on this tour?
All hotels used in this tour have 4 star rating.
Is there a supplement for solo travellers?
Yes. Please check our price list
Can you assist with pre- or post-tour accommodation?
Yes, we will gladly arrange your pre/post tour accommodation.
Is there any free time to explore places during the tour?
Yes, guide will always make sure you have some free time to explore on your own.
What is the fitness level required to do this tour?
This tour requires minimal fitness level. Most activities require light walking.
What currencies are required for this tour?
Official currency in Croatia is Croatian Kuna (HRK), in Slovenia and Montenegro Euro (EUR), in Bosnia & Herzegovina Convertible Mark (BAM) and in Serbia Serbian Dinar (RSD). All major currencies can be easily exchanged in banks, hotels or exchange offices. ATMs are also widely available.
What happens if a group doesn't make its minimum required number of passengers?
In the unlikely case that departure is cancelled, every client who has paid either deposit or full amount will receive money return in full.
Perfecta Travel is obliged to send information about cancellation no later than 60 days before departure date.
What is the tipping policy?
Tips are welcomed but not mandatory. Here are tipping recommendations:
•Local Guide/s: 10-15€ per group for a half-day tour, 15-20€ per group for full-day tour
•Driver: 1-2€ per person per day
•Hotel personnel: 1-2€ per day
What kind of adapter will I need for my electronics?
All countries visited on this tour use the standard European socket with round, two-pronged plugs. You can buy an adapter at most electronics stores, or even grab one in the airport on your way out.
Map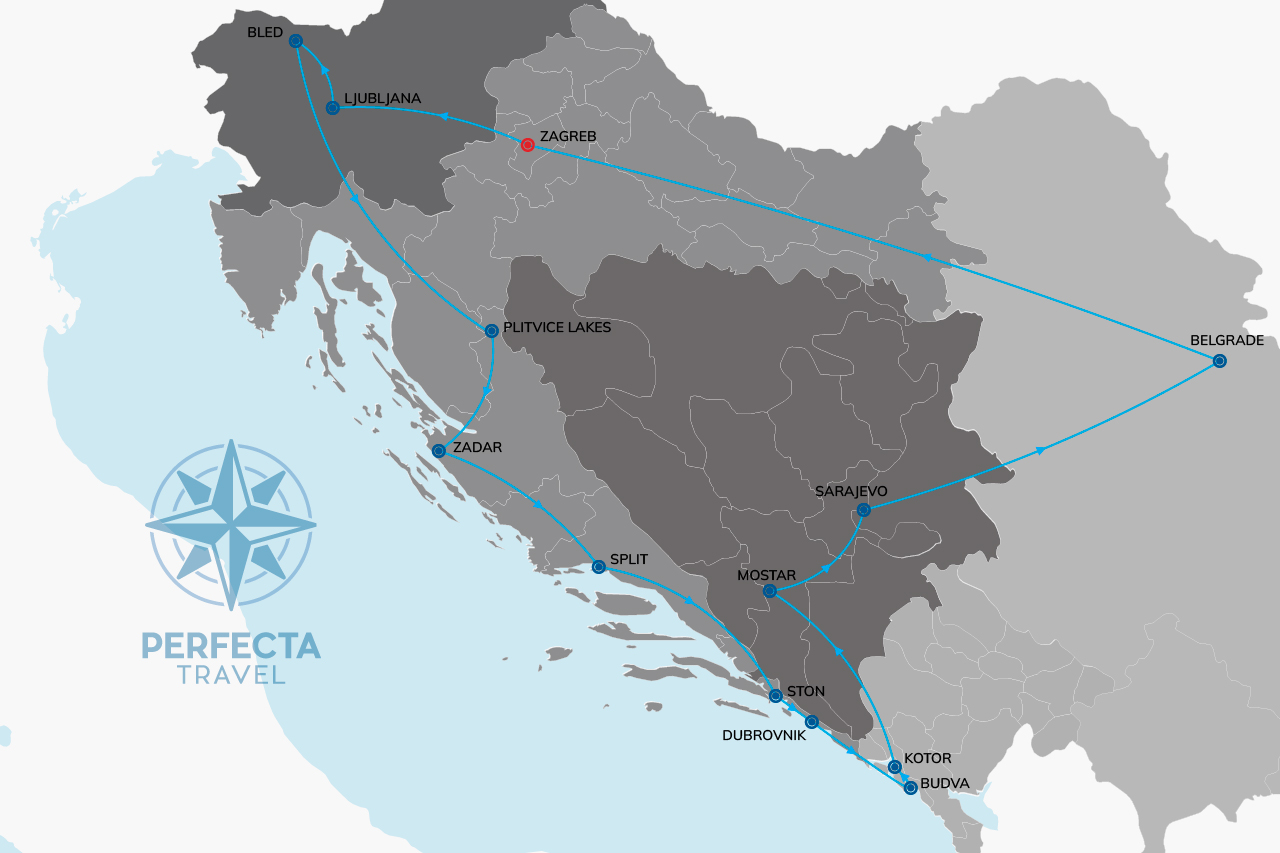 Reviews
Margaret
Couple Traveller
I loved the tour! Everything was organized very good, hotels were nice, food was delicious, especially in Bosnia, our local guides were interesting and open to answer your questions. My husband and I had really good time and saw many lovely places.
05/02/2020
Tony
Solo Traveller
I'm glad I've joined this tour since I wanted to visit this part of the world for a long time and was not disappointed. Balkan countries are very diverse, history rich and beautiful. I was surprised how people are kind and friendly and places we visited were stunning, especially Dubrovnik and lake Bled.
20/09/2019
PROUD MEMBER OF